Since September last year, according to the "Notice on Further Strengthening the New Coronavirus Nucleic Acid Testing Work in Fever Clinics" by the Medical Administration and Hospital Administration of the National Health Commission.
Document requirements: Improve the Nucleic Acid Testing capacity of New Coronavirus in fever clinics, set up independent laboratories, and carry out Nucleic Acid Testing work. Strengthen the reserve supply of sampling consumables, testing reagents and protective equipment to ensure that demand is met.
Race against time and take the social responsibility
Since January this year, Zhejiang Province has been affected by the local epidemic, and there have been sporadic confirmed cases, and the testing field is facing the pressure of large-scale screening. Nucleic Acid Testing Bases have been added in many places in Zhejiang, and they are PCR laboratories that meet secondary standards. Subsequently, the laboratory configuration and the demand for reagents and equipments ushered in a large increase.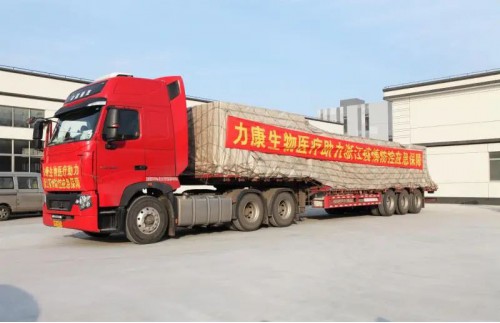 Since Heal Force received a large-scale order of testing materials from Yiwu City, Quzhou City, Jinhua City and Jiaxing City in Zhejiang Province, the production workshop of Heal Force actively worked overtime to produce Biological Safety Cabinets and qPCR instruments, which were urgently sent from Shanghai to Zhejiang. Heal Force is unhindered by wind and snow and bravely shoulders social responsibilities, which interprets the speed and responsibility of Heal Force staff in the face of Epidemic Prevention and Control.
Helping the rapid completion of Nucleic Acid Testing Bases
Nucleic Acid Testing has the advantages of high sensitivity and strong specificity, and is still the gold standard for New Coronavirus Detection. Laboratories that carry out Nucleic Acid Testing must comply with the relevant provisions "Biosafety Management Regulations of Pathogenic Microorganism Laboratories" and "Clinical Gene Amplification Testing Laboratories Management Measures in Medical Institutions", and have BSL-2 or above laboratory conditions and PCR laboratory conditions.
In the newly built Yongkang Base in Zhejiang, Heal Force engineers quickly completed the equipment installation and commissioning after the laboratory base design and hydropower renovation were completed, helping the acceptance of the Nucleic Acid Testing Base. It is reported that once large-scale Nucleic Acid Testing is required in the event of epidemic, the laboratory can be opened as soon as possible to provide a solid backing for the prevention and control of the New Coronavirus Epidemic in the city.
Testing Equipment——Biological Safety Cabinet
The clinical detection and research of the New Coronavirus has extremely high risks, and the preparation of reagents, nucleic acid extraction, and detection are all inseparable from biosafety laboratories and biosafety cabinets. The Bological Safety Cabinet is a box-type air purification negative pressure safety device that can prevent some dangerous or unknown biological particles from dissipating aerosols during the experimental operation and processing, which provides safety guarantee for clinical laboratory workers and scientific researchers who are fighting on the front line of Epidemic Prevention and Control.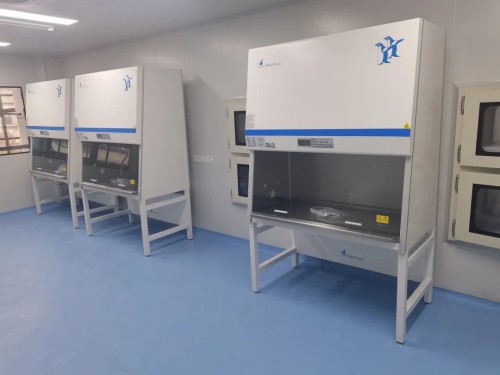 According to Heal Force engineers, Heal Force Biological Safety Cabinet adopts professional design, can accurately grasp the air flow direction, and is equipped with multiple wind speed and flow sensor monitoring. The humanized design can also reduce the operator's fatigue in long-term operation, and give the operator a more comfortable working environment, which is recognized and praised by the front-line staff.
Testing Equipment——qPCR instrument
The fluorescence quantitative PCR instrument is used for the Nucleic Acid Testing of New Coronavirus, and the experimental results are obtained by the CT value of the sample. Heal Force X960 fully automatic medical PCR analysis system has been favored and unanimously praised by domestic and foreign hospitals, disease control, customs and other end users as early as 2020 during the fight against the New Coronavirus Epidemic due to its good stability, convenient operation, fast running speed and time saving, making great contributions to the fight against the epidemic.
X960 fully automatic medical PCR analysis system is a real-time fluorescent quantitative PCR analysis system launched by Heal Force. It maintains the consistent high quality of Heal Force. It has two configuration options: two-channel and five-channel (the fifth channel is reserved). It is equipped with 96-hole gold-plated modules to meet different application requirements.
Work together to Fight the Epidemic
As a domestic brand, Heal Force has been deeply involved in the field of medical devices for more than 30 years. For epidemic prevention and control, Heal Force has launched relevant Nucleic Acid Testing Equipment Solutions, which can provide efficient and flexible emergency solutions for the construction of Nucleic Acid Testing laboratories. During the period of Epidemic Prevention and Control, Heal Force provides continuous support and guarantee for the construction of biosafety.