Advantage One: Three In One Sensor
High quality sensors (CO2, Temperature, Humidity) are mounted directly within the upper side of chamber for precise environmental measurements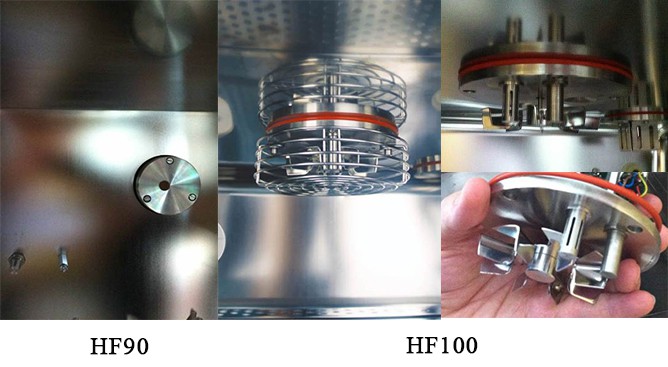 Advantage Two: Air Distribution Efficiency
Highly efficient fan-assisted distribution of critical temperature, CO2 and humidity insures uniformity for all samples- no matter their location within the incubator
Compared to HF-90, new CO2 incubator HF-100 installs fans on top of the chamber, where the CO2 inlet port is nearby for better air distribution efficiency.
Advantage Three: Integrated Gas Tank Switcher
A standard, integrated gas tank switcher for CO2 allows the connection of two gas supplies. When the first supply is empty, the controller switches automatically to the second supply.
Advantage Four: A Water Level Sensor
Condensate water is controlled within certain area at bottom of rear chamber
A water level sensor indicates when a refill is needed to avoid the desiccation of important cultures
Our Heal Force incorporates a unique integral humidity water reservoir that provides a high relative humidity (rH) and allows rapid recovery of optimal humidity level after door openings
Advantage Five: Visualization
90℃ moist heat decontamination process is an automatic, on-demand routine proven effective in eliminating bacteria, molds, fungal spores and mycoplasma.
The cleaning process does not require the disassembly and removal of sensors, hardware or other components for separate autoclaving
Advantage Six: Access Port
HF-100 incubators are supplied with a 52mm access port as standard. This allows cables, plugs and tubing to be easily inserted into or out of chamber